So I open my inbox, and there's an(other) email from Build-a-Bear Workshop, courtesy of my 6-year-old girl's gushing admiration for their stores and their products. From time to time she likes to play games on their website, which requires an email address and sign-up by a sucker parent.
So now, along with the other (grown-up) email subscriptions I maintain–including the New York Times, Poets & Writers, The Writer's Almanac, Dear Prudence, Salon, etc.–I now receive periodic updates from Build-a-Bear Workshop.
But here's the kicker…take a look: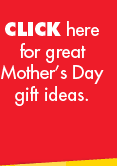 Really? Is that what moms across the country are hoping to receive on Mother's Day? A stuffed bear? In clothes? I would love to see the market research to back up that campaign. And then I would like to have a long sit-down with the moms who indicated, "Yes, I'd love love love it if my husband and children gave me a stuffed bear/cat/panda dressed in a tutu or maybe biker chaps for Mother's Day!"
We have a lot to discuss.
To be fair, if that's what those moms want for Mother's Day, they are completely within their rights to ask for it. Because anyone who is a mother sure as hell deserves one day of getting whatever she wants. (Even if it is an over-commercialized money-trap of a holiday.)
But why muddy the water for the rest of us, and for all the poor husbands who now might, just might, think it's a great gift idea? (Gentlemen, pay close attention. Unless your wife/significant other/mother of your children expressly and quite specifically says "I WANT A TEDDY BEAR," do not give her a teddy bear for Mother's Day. Or her birthday. Or Christmas. Or EVER. You get my drift.
Psst…also? She doesn't want a teddy either. In case you missed that bulletin.
Here's what I really want for Mother's Day. A late morning in bed (no early alarm telling me it's time to get up to take the kids to church), a couple of sweet cards and a hug from my kids and Mr. H, coffee (at my desk), and the rest of the day free to go play poker or to see two or three movies. (If anyone wants to go all out, I wouldn't complain about a freshly washed car and a full tank of gas.)
Oh, and no cooking. Pretend you'll notice a difference (hey, it's my day, my way).
And for the Build-a-Bear marketing geniuses? You might wanna consider knocking my demographic off your next campaign.
Unless, of course, you want to give me a coupon for a tank of gas.