A room of my own? Yes, I have one. And the photo to the left isn't it. That is a photo of Virginia Woolf's writing room.
I'm lucky to have my room, but I have to be honest: I haven't imbued it with the respect and sacredness it deserves. That I deserve. I'm pretty sure that it looks nothing like what Virginia Woolf had in mind when she wrote A Room of One's Own.
This room is my office (a sterile word for a room that should be more), but it's also the room that collects things that need to be put away when company stops by (or every other Monday when the cleaning ladies come). At times, the kids use my computer (their computer has a broken CD drive). The room has two doors, and it's a convenient pass through for children chasing dogs (or vice versa), or children chasing each other. Right now, there's a bag of dry-cleaning waiting to be dropped off. Board games on the bookshelf. Rubbermaid bins full of I'm-not-sure waiting to be moved. The boxes from one half of the closet have migrated out of the closet into one corner, still there from when I was looking for something packed away– something still unfound, by the way. (These damn boxes.)
I won't take photos, but trust me, they would prove that that there's nothing sacred about this room.
This morning I found an email from this organization, A Room of Her Own Foundation. Maybe you've heard of it. I've been on their email list for quite a while, but don't hear from them all that often. When I do, I'm reminded of what an amazing force it is. As stated on their website, AROHO is a "nonprofit organization, organized and operated to further the vision of Virginia Woolf and bridge the often fatal gap between a woman's economic reality and her artistic creation." One of the founders, Darlene Chandler Bassett, adds that the foundation helps "women of genius, just beyond sight and hearing, who don't have the time, privacy, or money to devote to their art."
I hope you will head over to their website and read more about their mission.
If I'm lucky enough to have a room of my own in our next house, I vow to make it less utilitarian. I plan to paint the walls and hang things on them that are pleasing to me. There will be more bookshelves and fewer board games. I will ban all Rubbermaid bins, no matter what they hold. And if, in the next house, all I can find is a corner for my desk, then the same rules apply. I deserve that much grace. We all do.
Maybe it's a tall order, but you know what? These days, I'm kind of into tall orders.
There are women in the world (I'll include the men, too, because I'm a fair-minded girl, and because it's true), in my world, who have words inside them that, when strung together, can tie a solid knot around my heart. Virginia Woolf may not have known any of them, but I still think of them when I read this:
Women have sat indoors all these millions of years, so that by this time, the very walls are permeated by their creative force, which has, indeed so overcharged the capacity of bricks and mortar that it must needs harness itself to pens and brushes and business and politics. –Virgina Woolf
So maybe a lot of us (me) live in houses that aren't so very old. And some of you live in houses that have been around for a while (lucky you). But listen to what she wrote. How powerful is that? And if you live in a newer home, as I do, then you're the one.
The one who starts it all.
Now on to our giveaway
(Insert balloons and confetti)
I can't give you a writing cottage like this (the line for a writing cottage in the woods forms just behind me, just so you know)…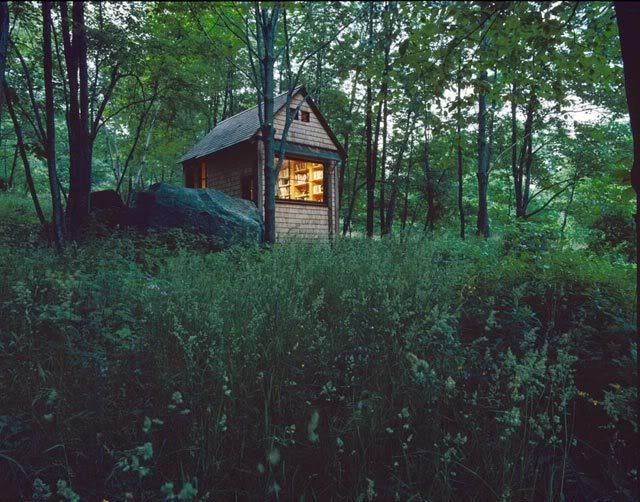 But I can give you one of these:
So leave me a comment between now and Tuesday, June 3rd, and you'll be entered to win a copy of this book.
In the meantime, enjoy whatever space is your favorite place to read or write. Right now, I'm off to de-clutter mine.