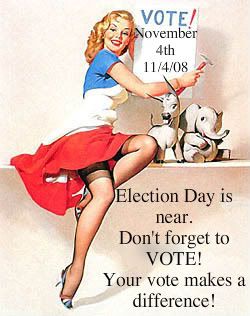 On the day I turned 12 years old, Reagan won the election. That was long before I developed any allegiance to one party or another, but I remember thinking it was pretty cool that the election fell on my birthday.
And so it does, again.
But this time? It's super cool. (So maybe there's some hip slang I could use instead of cool, but I don't know it. Because I'm 40 now. Sacrifices must be made.)
I have no idea how the day will play itself out, but I do know that I have my fingers crossed for my candidate, but also in the hope that whoever wins will take it by such a wide margin that the country won't be left in limbo for days or weeks. We could use that much certainty.
There are a lot of places one could spend a milestone birthday like this one, but I have a feeling that I'll be exactly where the rest of you are.
On the edge of my seat.
___________________________________________________________
Edited:
My best friend Madge wrote some nice things for me today over at her place. I just went back to read it for the second time, and I'm crying all over again…
And…
I completely forgot to mention that this is also my 200th post!