As you know, my sister has been with us this last week, and we've been doing some fun and interesting things. The best of them, in my opinion (and I don't think I'm alone in this), was our trip out of town on Saturday to the Kitt Peak National Observatory southwest of Tucson. We went for the Nightly Observing Program, and it was spectacular, amazing, and every other superlative you can imagine. If you live in the area or visit, you should definitely add this to your list.
By the time we left, I think we had all reached a state of awe at least a few times.
But let's backtrack…
A bit of advice. My sister handles many tasks very well. She's organized and smart and thorough. But if you want to get where you're going on time, don't put her in charge of the directions.
We were on schedule. Checked into the hotel, then got back on the road to drive the 50 or so miles to the observatory which is sited on top of a mountain.
As the passenger and holder of the printed-out Yahoo directions, Ducky was responsible for helping me find the way. Oh, she did. She even helped us take a detour through the airport before we ever got out of Tucson (actually had us do a U-turn to go back to the road that would end up taking us through the airport).
Still, I had faith in her. We were looking for the turnoff to Kitt Peak, and it seemed like we should have turned already since Kitt Peak was behind us (we wondered if, perhaps, there was a way around the mountain or something). Then, she called out, "Look! KITT PEAK JCT, 10 miles!" Except she was looking behind us at a sign going the other direction.
When we got back to the turnoff, after breaking a few speed laws, we saw that we had somehow missed this bigass sign:
And we were on a deadline. The nice man on the phone had reminded me that we had to be there by 4:15. No pressure. Ten extra miles to cover (plus the 10 extra we'd just driven), and we still had the 12-mile drive up the mountain.
You know I love a good drive, and a winding mountain road can make my heart race faster than just about anything (in a good way). This road was incredible, the kind you might see in a car commercial. Winding and steep, with views that could steal your breath right out of your chest. I could go back just to drive that road again. Unfortunately, there was no time to stop to take any pictures, but if you go to flickr and search for "Kitt Peak road" or "Kitt Peak," you can find great photos of the views. The observatory sits at a 7000 ft elevation, so you can imagine.
We made it exactly on time, and we weren't even the last ones to arrive.
The evening was magic. After a meal, we watched the sunset.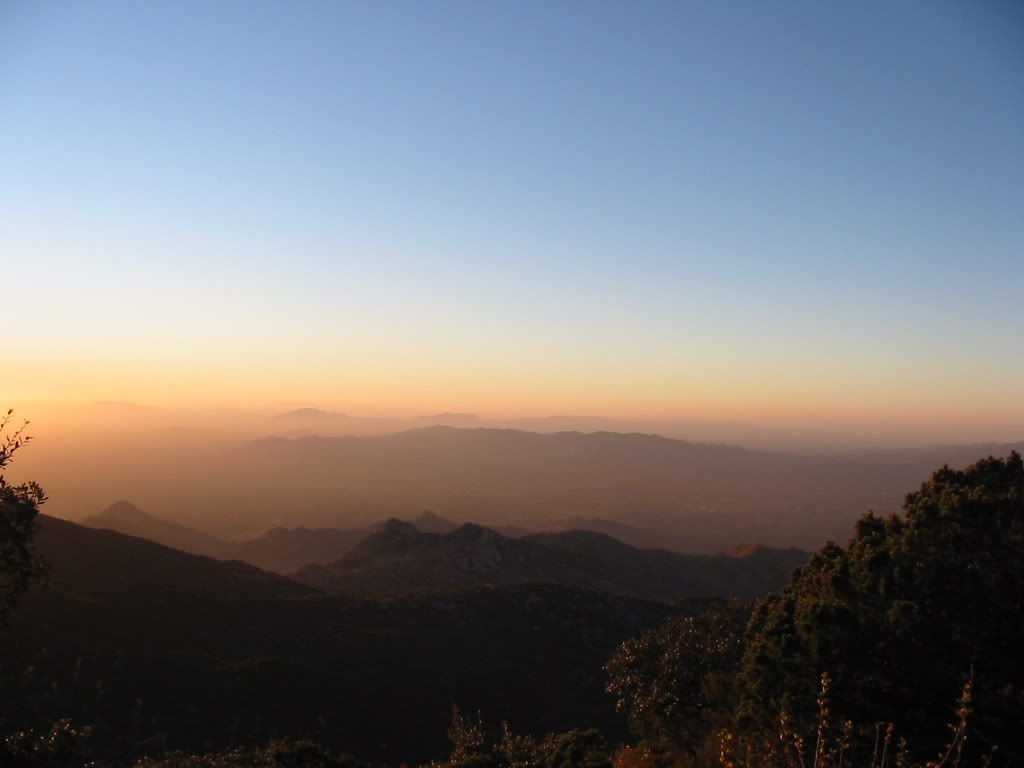 Then we went back inside for about an hour for an introductory program, and learned a few tricks for locating constellations. With binoculars in hand, and two guides with us, we walked back outside.
A collective gasp rose up from the group.
Stars, so many stars. The sky was crowded with them.
Maybe we're a bunch of cityfolk – I know most of the group were from inside the state (they asked for a show of hands) – because it was obvious that most of us hadn't seen so many stars in a very long time, maybe never, for some.
The telescope time was the best part of the night, and the chance to look at the moon in detail was my favorite part. The four of us all took a second look – I don't think Boy and Girl could believe their eyes.
Believe me, I could understand.
What they don't announce on their website or tell you on the phone is that when you leave the observatory to go back down the mountain, you have to drive the first few miles with no headlights. Any light can interrupt the work of the researchers, so all the visitors follow a lead car, and parking lights provide the only light. (I did mention how winding and steep the road was, right?)
I could go on about the night, and I can't promise I won't revisit it later if I can find the right words. It's possible that they will escape me. As I said before, if you ever get a chance to visit this observatory, you absolutely should.
And if winding mountain roads make you nervous, just give me a call.
I'll drive.