Highlight of my day so far? Seeing a moving truck parked one  street over, backed up to a house that is not mine. The sarcasm drips, in case you missed it.
Update: Half our stuff still in boxes. Nothing on the walls but the growing cling of frustration. Yes, we're still planning to move at the end of the school year, but that feels like a long way off right now. I need to decorate something.
________________________________________
Some of you may remember my failed attempt at installing window blinds last year, and the result which proved to have, uh, shortcomings.
But that was then. You should know that lawn bags full of no grass grows under our feet here at Casa de Harvey. In fact, our efficiency makes me laugh.* Take a look. I think you'll notice a huge difference.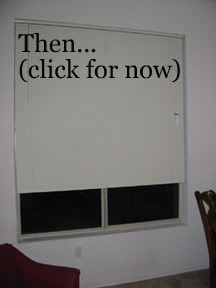 Did you notice? One photo was taken at night, and the other was taken during the day!
*By laugh, I mean cry on the inside and a little bit on the outside, too.
________________________________________
I came across these words the other day, and they almost knocked me over…
Every day we slaughter our finest impulses. That is why we get a heartache when we read those lines written by the hand of a master and recognize them as our own, as the tender shoots which we stifled because we lacked the faith to believe in our own powers, our own criterion of truth and beauty. Every man, when he gets quiet, when he becomes desperately honest with himself, is capable of uttering profound truths. We all derive from the same source. there is no mystery about the origin of things. We are all part of creation, all kings, all poets, all musicians; we have only to open up, only to discover what is already there.
— Henry Miller
All the stress lately seems to have kneaded my creativity into something small and unyielding, like a lump of clay that was once shaped into a bird but is now a hard lump on the table. Or, it feels like a parcel I've set down at the side of the path, to pick up again on my way back through. Too heavy to carry for now, with my hands busy juggling everything else.
I almost feel muzzled, that's how removed I feel from the words I need. Miller's words lifted some of the weight, though, and made me think that maybe if I can quiet some of the noise (and stop mixing my metaphors), something clear and pure and true will speak to me.
For now, maybe it's just a case of the February blahs – I hear they're going around. A bright spot:  Looking forward to hearing Alice Sebold on Saturday night with Christine.
May her creative fairy dust land on us.
________________________________________