This post, pure indulgence. (We'll get back to saving the world tomorrow, or looking for cowboys. Either way.)
In Indiana, after we take care of more pressing things (depends on who you ask, I say) – like interior doors, a stove (optional, if you ask me), dishwasher (not negotiable), bathroom tile, and the rest of the flooring – I'll get to work on the room I've claimed for myself. When it's finished, however long that takes, it will be part office, part refuge. Part cloak of invisibility, if I can work out a few more details in the technology. Or just install a deadbolt.
The basics first, of course. Desk, office chair, computer, printer, files. Ample stock of paper clips and Pentel Rolling Writer pens, black, medium. Then, the rest.
I've thought a lot about how I would want it to look, and what I'd want in the room, from simple things to never-gonna-happen. It can't hurt to aim high and then figure out how to do it on a budget, right? I figure there's a lot of HGTV and DIY Network in my future. All that said, here's my wish list:
For soul: many, many bookshelves
For wall colors: deep red and turquoise
For texture: leather, wood, silver, some mercury glass
For comfort: a window seat and a comfortable chair (Love this leather chaise…have no idea how to buy it or a price. It's a dream piece, for sure)
To sip: coffee or Penfold's Shiraz Cabernet
For mood: music, windows with a nice view
Little things that make me happy: a cup full of sharpened pencils, and an endless supply of fireballs
If I could add a one more thing to this list, it would be a fireplace, but my room is on the top floor, and that's probably not an option, at least not anytime soon.
But a deadbolt? So is.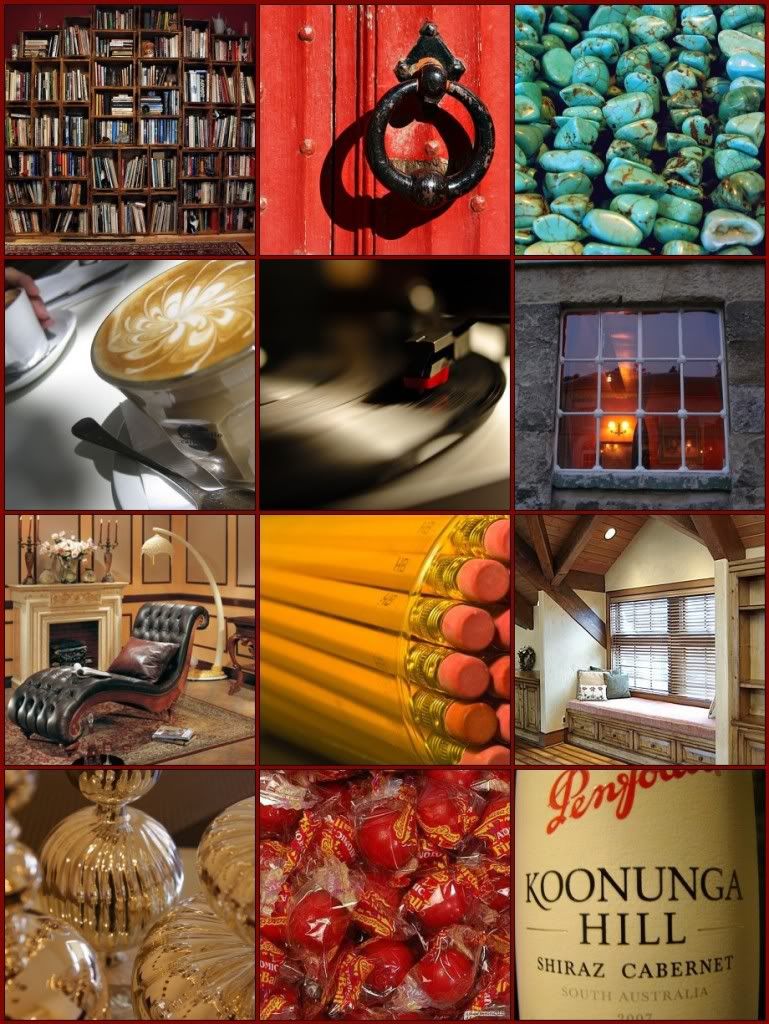 1. Sitting room bookcase, 2. Knock knock, 3. Turquoise Beads, 4. Coffee for all.., 5. turntable, 6. There is again window…, 7. Chaise, 8. HB, 9. Window seat, 10. Mercury Glass, 11. Fireballs, 12. Penfold's Koonunga Hill 2007 Shiraz Cabernet
If you could have a room just for yourself, how would it look? What would you want in that room, for it to feel comfortable, perfect, sigh-worthy…and look like it was an extension of you? I would love to see what you would want in your perfect room, so if you decide to make your own mosaic, here's what to do:
1. Surf over to Flickr or Photobucket (set up an account if you don't have one – it's quick and easy) and type what you're looking for (one at a time) into the search bar.
2. From the choice of pictures shown, click on the one that moves you.
3. Once the page with your picture opens, copy the URL.
4. Surf over to the Mosaic Maker, set up your mosaic, and paste your URLs.
5. Click "Create!" When your mosaic appears, right click it to save to your computer, then you can upload it to your blog as you would any image. If you do create one and post it, let me know here in a comment and I'll add a link to your post.
_________________________
Your dream rooms:
Elisa at An Unlikely Housewife – go see what she has in mind for her room in Zurich.  (Yes, Zurich. I'm envious, too…) Her ideas and her mosaic are lovely.